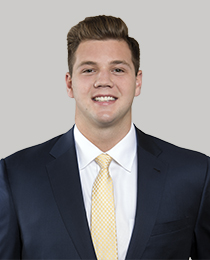 Client Follow Up Specialist
Ryan Curran joined The Curran Group in 2017, after earning his undergraduate degree in Economics from Johns Hopkins University, where he played basketball for all four years.
Growing up in and around his father's financial planning practice, Ryan took an early interest in the business. He recalls attending industry conferences with his parents, and being captivated with a keynote speaker at one particular event. "The man was speaking about doing good for others – that by creating order in people's finances, he was creating change in the world," recalls Ryan.
That message resonated with Ryan. With no outside pressure, he decided to give the business a try. "I like people, I like finance, and I enjoy helping others," he says. Whether it's in his genes, or simply something he has picked up over time, he also has ingrained in him the firm's unspoken rule of "reliability in service."
Ryan's objective is to reach out to the next generation of The Curran Group's clients, and to provide continuity to the deep relationships the firm already enjoys. An avid sports fan, Ryan is also excited to expand the firm's niche focus in working with athletes. "We already work with several hockey players, so here again, it would be fun to help the next generation of athletes manage their finances," he says.
Ryan attended The Delbarton School, a rigorous private preparatory school in Morristown, New Jersey. At Johns Hopkins, he was named to the National Association of Basketball Coaches' Honor Roll, which celebrates the sport's top student-athletes.
He enjoys photography, a wide range of music, and every sport he can play.
Contact us for a complimentary consultation